Would you be surprised that a Penn alum produced the soon-to-be released film
Jewtopia
? : )
Find out more after the jump!
Penn alum
Courtney Mizel (W'95, Bloomers)
produced the film adaptation of the L.A. stage production of
Jewtopia
and it is being
released in theaters and on demand
on 9/20.
The premise in a nutshell is the story of a gentile (non-Jew) who wants to marry a Jewish girl ...so that he'll never have to make another decision for as long as he lives. Love it!
Inspired from the international smash hit play seen by over a million people,
Jewtopia
's got lots of stars including Jennifer Love Hewitt, Jon Lovitz, Rita Wilson, Jamie-Lynn Sigler, Wendie Malick, Nicollette Sheridan, Tom Arnold, Phil Rosenthal, Peter Stormare, Camryn Manheim, Ivan Sergei, Joel David Moore, Christine Lakin, Hayes MacArthur and Lin Shaye.
The shpiel:
The story is about Christian O'Connell (Sergei) and Adam Lipschitz (Moore) — two childhood friends who reunite as adults to help each other land the women of their dreams. Chris wants to marry Allison (Hewitt), a Jewish girl, so that he'll never have to make another decision for as long as he lives. Adam is on the verge of getting married to Hannah (Sigler), a woman he is not content with. When Chris enlists Adam's help in pretending to be Jewish so that Allison will date him, cultures collide and chaos ensues!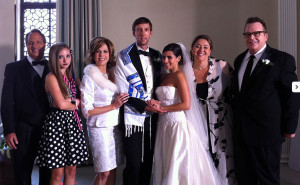 Jewtopia
is the directorial debut of Bryan Fogel who co-wrote the screenplay, the stage play, and the best-selling book, Jewtopia: The Chosen Book for the Chosen People, with Sam Wolfson. The film is produced by Courtney Mizel (Tortilla Heaven), Pavlina Hatoupis (Sassypants, Frankie Goes Boom), Andy Fickman, (director of The Game Plan, Race to Witch Mountain, and the Billy Crystal / Bette Midler comedy Parental Guidance), Tucker Tooley, (Immortals, The Fighter, We're the Millers), and Bryan Fogel.
...And check out the history of
Jewtopia
when it debuted first as a play:
More
here