Tonight (9/27), small business and finance expert
Monica Mehta (W'97, Counterparts)
will be appearing for a second time on the "Real Time with Bill Maher" panel.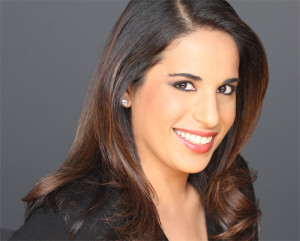 Monica has actually been all over the media writing magazine columns (Bloomberg, Businessweek, INC Mag, and Entrepreneur Mag) and appearing regularly on business and political shows ("O'Reilly Factor", "The Adam Carolla Show", Fox News with Neil Cavuto, "Fox & Friends", "Fox Business", MSNBC, Bloomberg TV, ABC News).
Find out what Monica will be talking about with Bill after the jump!
If that weren't enough, Monica published her first book last fall,
The Entrepreneurial Instinct: How Everyone Has the Innate Ability to Start a Successful Small Business
(McGraw-Hill 2013) which explores the brain science behind entrepreneurial risk taking.
When I asked Monica what she thinks she'll be talking about tonight she told me,
"Topics get nailed down the day of, 10-12 discussions on current events, politics. Given my focus and Robert Reisch (Former Labor Secretary Clinton) will be on, I'm sure we'll discuss the economy (debt ceiling, fed tapering, unemployment, minimum wage). But since Maher is an entertainer, I'm sure we'll talk about a lot of other stuff too. Last time I was on we talked about religion, racism, gay rights and legalizing pot, with Snoop Lion on high as a kite and on the verge of getting uncomfortably homophobic."
More on Monica at her website:
http://monicamehta.com
More Penn alumni on TV
HERE
Share
Tweet